The Korean Experience
Click on thumbnails for large images.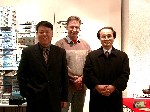 Mr. Jeong (Head of R&D Academy), Steve Evans and Mr. Kang (Head of Marketing, Academy) at the Academy Contest.
After a final briefing from Shin at Auckland Airport, Steve and I left New Zealand for our Asian adventure. After a 4-hour stopover, and then a further 3-hour delay in Singapore, while the snow and ice was cleared from Kimpo, we were off again. Arrived over Seoul about 10am on the Monday morning and we were immediately amazed bythe amount of snow. The whole country was white. Average temp was -10°C.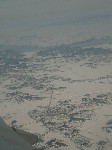 The aerial view of Seoul - lots of cold white stuff.
We were met at Kimpo airport by Mr. Kang (no relation to Shin), who is Academy's distribution manager and who was to be our host and guide for the first 1 ½ days. We found the Koreans we met to be very gracious and friendly. Neither Steve, or I, paid for any meals, drinks, transportor accommodation the whole time we were in Korea and the people we met wentout of their way to make us feel welcome.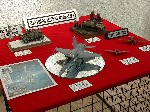 The NZ contigent's models on display.
We were given books, magazines and resin and taken topretty much all the places we wanted to see/go. The price of models in Koreais slightly higher than in NZ (about 130% more) except for Academy obviously,which are dirt-cheap. Having said that, the selection is much greater with Hasegawa and Tamiya boxings not seen in this country.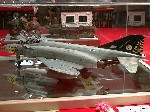 The overall best entry in the Academy Contest - Tamiya 1/32 Phantom.
The 14th Annual Academy Pla competition was held on the third floor of a convention centre in downtown Seoul. Turnout was about on a level with the number of entries received in the Auckland Regionals. The classes were organised differently than we have over here (not unusual I guess being that this was a competition run by a manufacturernot a club). There was no distinction between armour, aircraft, figures,etc.
Entries were divided into:
Elementary school children
Middle & High school students
College students & adults
And the classes in each of the groups were divided into:
Single
Diorama
Science Fiction Normal
Science Fiction Gundam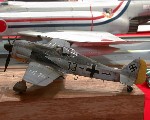 A nice 1/48 Fw190.
Being that Academy also distributes Bandai, who are manufacturers of a large Gundam range (large "Transformers"-like robots), this last class was very well represented and so no surprise it had it's own category.
There were some very well executed entries on the tables. But as far as the aircraft goes many were let down by poor finishing (i.e. seams showing, glossy decals, etc). The number of entries was spread rather evenly between figures, armour, aircraft and Gundam. Incorporated with the show was a large buy, sell, swap meet which had lots of interesting items on the tables also.
There were representatives from most of the Korean aftermarket companies (SOL, Dynasty, Legend) and a large presence from Hobbist magazine, which is a monthly high quality glossy modelling magazine from Korea, with articles similar to Tamiya magazine.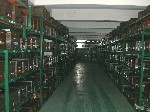 Steel moulds of every Academy kit produced - the Mould Museum.
Other highlights of the trip included:
2/3 day at the War Museum ogling everything from a B-52D, through Scud missile, to T-34s. Personal highlights included the aircraft park which featured a C-46 Commando, F-86 Sabres (an F and D), F-51D Mustang, C-119 Boxcar, MiG-15UT and 21, T-33, An-2 Colt and helicopters (H-19/S-55, H-34/S-58, UH-1D Iroquois and OH-13 Sioux). I will have photos of most of these at the next meeting for those interested.
Visit to Academy's headquarters (which includes their R&D and design departments), injection/packaging factory and mould making factory wherethey create the tooling and moulds to be used in the injection machines.We were able to see first had the entire model making process – frominitial CAD development to creation of tooling to the injection and packagingprocesses. I have gained a lot more respect for model manufacturers havingwitnessed this process.
A visit to the large electronics market and then a half day looking around one of the many large historical sites that are scattered throughout Seoul.
Getting to fondle the new 1/35 UH-60L Blackhawk being tooled on behalf of MRC, which will also be marketed under the Academy label.
Visits to numerous hobby shops around the city, and being able to pick up a Hasegawa 1/48 F/A-18D Hornet at one for half price, courtesy of Mr Jeong.
Visit to the SOL factory/retail outlet.
Some very nice Korean meals, though I have to say, I will certainly be happy if I never smell another piece of kimchi again.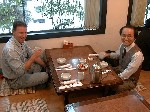 Steve and Mr. Kang in a Korean Restaurant - notice the snow outside and how hard it is for a Kiwi to sit on a floor cross-legged.
---