Tempest Tales... or ... be careful about promises you make! by Mark Robson
In 2002 I had the fantastic adventure of attending Warbirds Over Wanaka (WOW) and having a real VIP experience.
My wife was Managing Editor for Reed Publishing, which was contracted to publish the book for WOW and I was able to tag along together with our 2-year old son Aidan. I was given an official photographer's bib and pass, so could roam wherever I wanted to take pictures, some of which I am pleased to say ended up in the book.
I got to meet a host of famous people including some of my heroes such as Ray Hanna, who had recently lost his son Mark in that horrible Buchon accident.
My wife had previously met a former 486 pilot called Jack Stafford, along with his lovely and long-suffering wife Edith. I say long-suffering because Jack is one of those irrepressible characters that is the life and soul of the party, and Edith has to keep him on the straight and narrow! Jack scored a number of V1 kills and came close to ace status in terms of air-to-air victories and also destroyed many aircraft, trains and vehicles during hazardous ground-attack missions. He is a true exemplar of the "greatest generation" that saved us from Nazism and the militaristic empire of the Japanese.
I was fascinated by Jack's wartime stories. I offended him by saying what a nightmare the Napier Sabre engine was, and he gave me a good dressing down and said what a reliable and powerful unit it was. I guess the Rolls Royce lobby, which definitely had it in for Napiers, has influenced all historians of the wartime RAF. To be fair, RR engineers helped make the Sabre what it was, and by the time Jack was on the Typhoon and then Tempest most of the bugs had been worked out.
The whole long weekend was pure pleasure for me and when Jack said he would love a model of a Tempest for his living room cabinet I rather foolishly said I would build him one. I say foolishly because my friends will tell you that I am a notoriously slow modeler whose output rarely exceeds one a year!
Jack had already purchased an Eduard 1/48th scale kit (which he had thoughts of building himself) but he had no modelling experience and even he could see in the box that the kit has some shape problems.
I already owned a copy of the Eduard kit, many references, decal sheets etc, so returned home with a surge of enthusiasm. I got talking to Kerry Carlyle and Andy Hosking from our club, and we decided as a team to improve and "accurize" the Tempest kit in component parts and then use Kerry's resin molding expertise to run off a couple of copies each and I would build Jack his dream model.
We had one group meeting and I was delegated to work on the fuselage of the Eduard kit. I did (in my defence) spend a couple of hundred hours reshaping, rescribing, sanding and installing the Jaguar fuselage plug which was designed by Roy Sutherland. It got close to getting a coat of paint but like many such projects the energy waned and the modified fuselage gradually gathered dust on my well-populated "Shelf of Doom".
I saw Jack a couple of times over the next decade and kept in touch by email and phone, and each time we met he would theatrically wail and moan like a lost soul talking about the "missing piece of the puzzle that would make his life complete". He was joking mainly, but there was a kernel of truth that worked on my conscience.
Finally in 2013 Ken Lawrence of PCM Models in California announced a new 1/32nd kit of the Tempest Mk V made by Sword Models of the Czech Republic with significant input from Roy Sutherland of Barracuda and a number of other Tempest enthusiasts.
I anxiously awaited release of the kit, and even asked Ken if I could have an advance copy to get started ASAP. This proved impossible, but I must have been one of the first modelers in world to make an order, and took delivery of 3 kits.
Then the hard work started! The kit is very accurate, with shapes that look almost perfect to my eye, but it is short run kit with all the inherent drawbacks of that style of model, and I am the slowest modeler in the world!
I worked on little else (model wise) for the next year and from September 2013 to February 2015 this Tempest was in my every waking thought, and some of my nightmares too.
I will write a detailed review of the kit for the website or newsletter but suffice to say, it fought me all the way! It was as if the famous RAF "gremlins" were at my shoulder trying to sabotage the model! Even on the Sunday morning of delivery of the kit to Jack and Edith one undercarriage leg pinged off the model for no apparent reason and prompted an emergency repair before racing out the door. This says much more about my modeling skills than it does about the kit, which I would recommend to anyone with more skill than I, which is most of you!
Jack and Edith now live in a retirement village in Auckland after living most of their lives in Rotorua. They were thrilled to see the model. Edith is as sharp as a tack into her 90s and told me a heart-rending story of losing her older brother Andrew in a Typhoon ditching in 1943. I did not know this, nor did I know that her maiden name was Brown and her family owned the farm that is now known as Brown's Bay on the North Shore.
Jack is starting to fade mentally and is one of those older gentlemen who can remember 1945 as if it was yesterday but can't remember yesterday. He regaled us with more stories (that I had not heard) of Typhoon and Tempest operations over Europe and even my jaded "know everything" children realized that we were in the presence of real history.
I had gotten a big display case made but it soon became clear during the visit that their apartment was too small to house the model, and Jack himself admitted to becoming a bit random in thoughts and movements to the point of damaging delicate items. We agreed that the model should go on display in the fantastic cabinets in Modelair in Newmarket with a small plaque explaining for whom the model was made. Nicky and Richard Thompson of Modelair have kindly consented to this idea, and the model will be in there as soon as I can stop staring at it!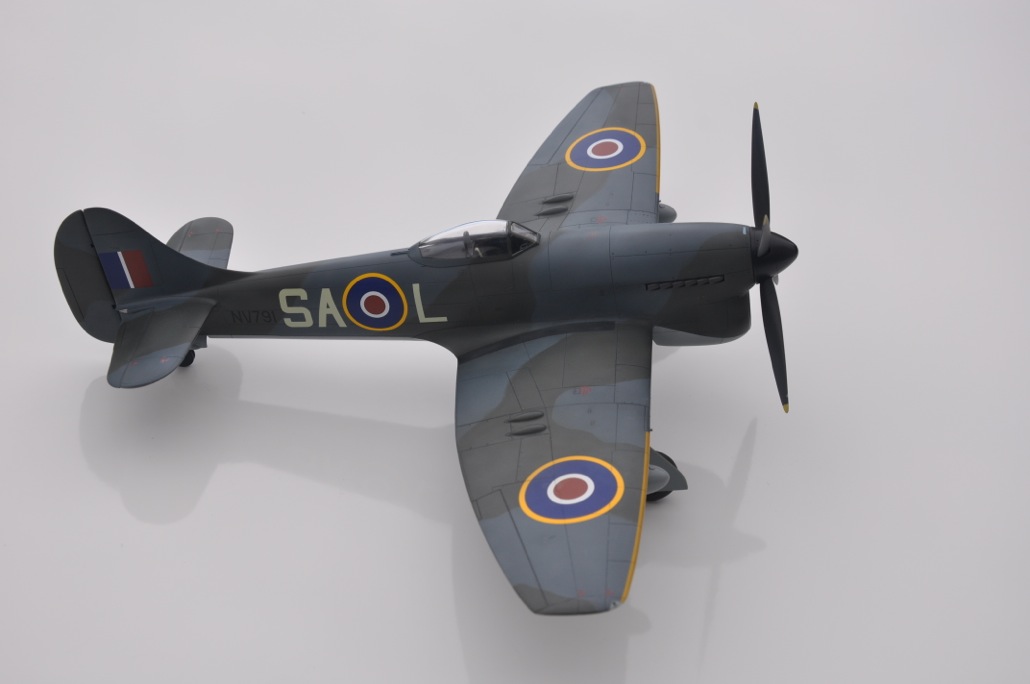 I apologise for the poor quality of my photos (my camera is clever but I am not) but they show Jack, Edith and me with the model for scale and then the model itself. The pictures don't convey the impact that a 1/32 kit has on the eye and this is my first kit in this scale since the awful Matchbox Spitfire 22 that I made when I was about 14. I will be doing more kits in this now-popular scale!
I wish Jack and Edith many more years of happy married life together; they truly represent a graceful and steadfast bygone age.